Fast absorption, fast regeneration, better performance
Revitalizing your muscles after a workout is not only about providing essential nutrients but also about the speed of nutrient absorption.
The faster the absorption, the quicker your muscles can begin the recovery process and achieve a positive nitrogen balance.
With salmon protein, you can experience a remarkable 79% increase in nitrogen supply to your body compared to whey protein isolate within the first two hours of consumption. This means faster recovery, enhanced muscle growth, and optimal performance.*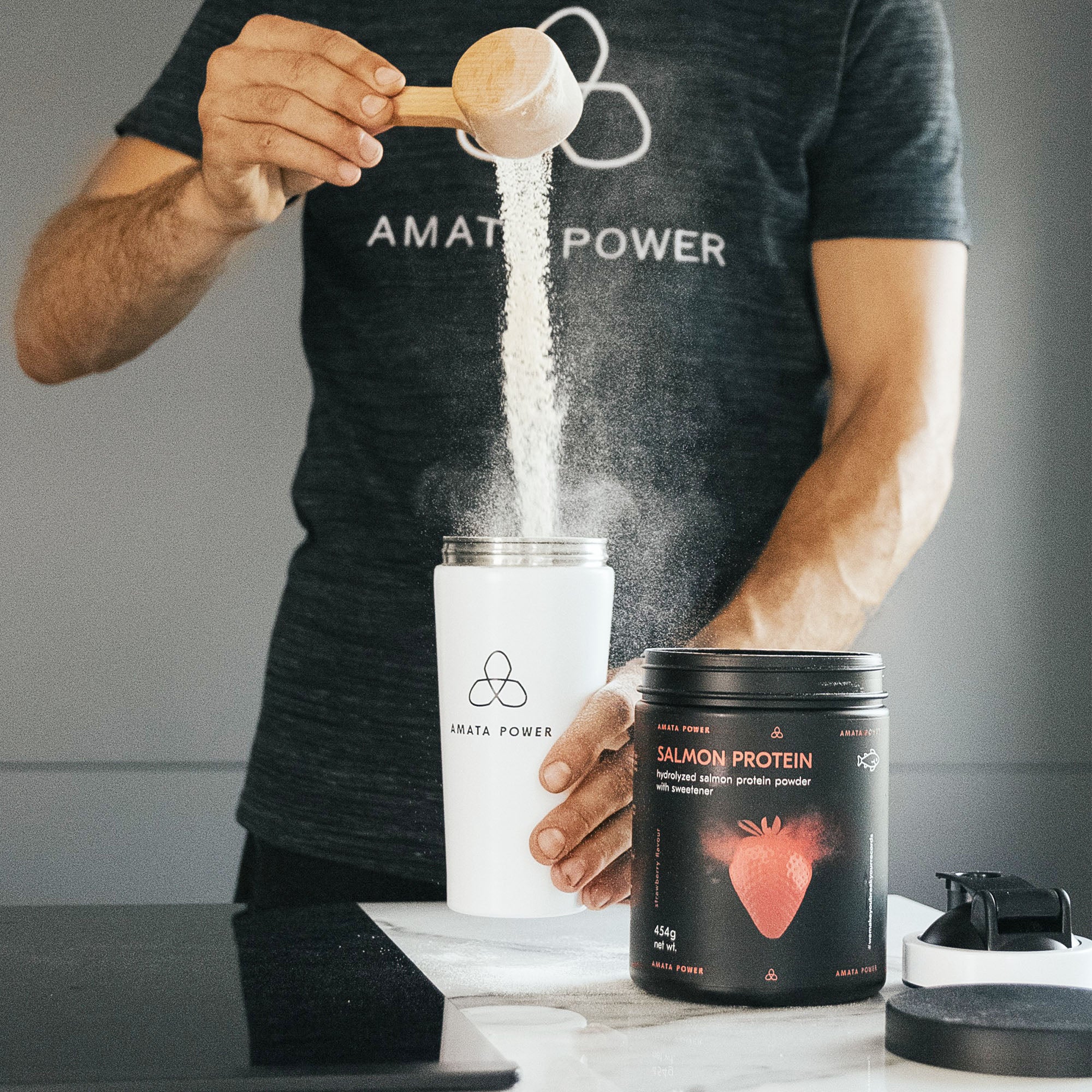 Easy digestibility
Digestibility is another crucial factor in the effectiveness of a protein.
Salmon Protein boasts an exceptional 98% digestibility, allowing your body to efficiently break down and absorb the essential amino acids it provides.
Unlike other protein powders that may cause digestive discomfort or bloating, Salmon Protein is gentle on the stomach, ensuring a pleasant and easily tolerated experience. Fuel your fitness journey with confidence and comfort, knowing that your body can make the most of every nutrient.
Perfect solubility
Amata Power takes solubility to a whole new level with its hydrolyzed nature and low molecular weight peptides. This exceptional solubility ensures that your protein powder effortlessly blends with water, juice, or milk, creating a smooth and enjoyable drinking experience.
Say goodbye to thick and overly sweetened shakes that can leave you feeling overwhelmed for hours. Simply mix one serving of Amata Power (32g) with 400-500 ml of cold water and savor the refreshing lemonade-like protein shake.
(Finding the right water-powder mix ratio is key to achieving the perfect balance of flavor. If your first sip falls short of expectations, fear not! Your taste buds will quickly adjust and the next shakes will surely delight your senses.)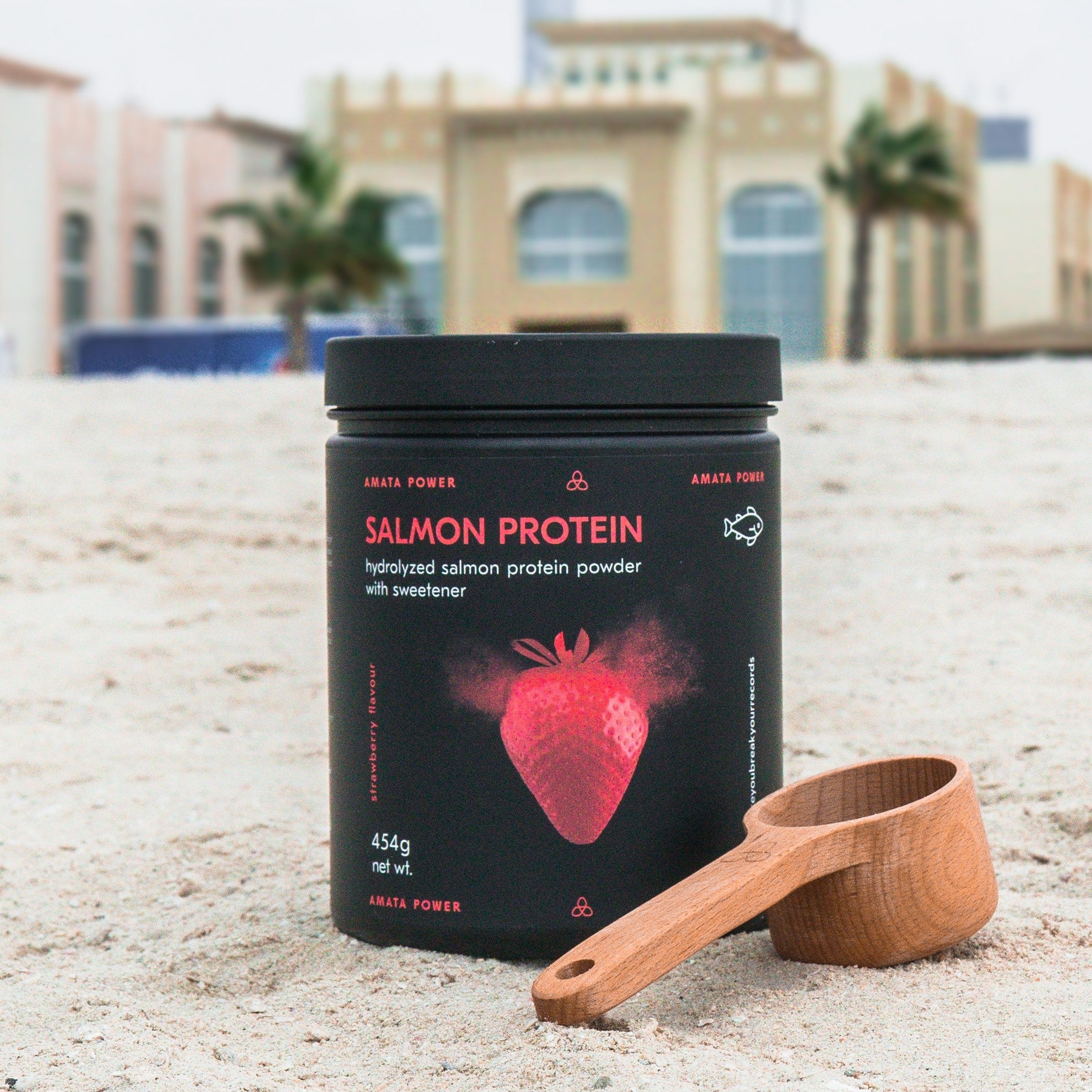 No allergens
At Amata, we prioritize your dietary needs and strive to provide a safe and enjoyable experience for all. That's why our Amata Power Salmon Protein Powder is free from common allergens such as dairy, soy, nuts, and gluten. We understand the challenges of specific dietary restrictions and aim to make protein supplementation worry-free.
Our patented manufacturing process ensures the hypoallergenic nature of our salmon protein powder, making it suitable for the majority of individuals. However, if you have a high sensitivity to fish products or any concerns about potential allergenic reactions, we strongly recommend consulting with your doctor or dietitian before incorporating Amata Power into your routine.Your well-being and safety are our top priorities.
Please note that while our product is allergen-free, it is manufactured in a facility that also processes products containing gluten, eggs, soy, milk, and nuts.
Micronutrients
Made with a unique enzymatic extraction technique performed at low temperatures, our salmon protein powder preserves essential micronutrients. Magnesium, potassium, calcium, phosphorus, and sodium remain intact, offering additional benefits to support your overall well-being.
Experience the power of Amata Power Salmon Protein Powder, not only as a source of high-quality protein but also as a nourishing supplement that fuels your body with essential nutrients.
* https://www.functionalfoodscenter.net/files/89702862.pdf
** https://www.omicsonline.org/open-access/a-placebocontrolled-randomized-study-on-the-impact-of-dietary-salmonprotein-hydrolysate-supplementation-on-body-mass-index-in-over-2165-7904-1000296.pdf
*** https://www.researchgate.net/publication/281537700_A_Placebo-Controlled_Study_of_the_Impact_of_Dietary_Salmon_Protein_Hydrolysate_Supplementation_in_Increasing_Ferritin_and_Hemoglobin_Levels_in_Iron-Deficient_Anemic_Subjects